I remember the summer before the start of the 2013-2014 season very well. Liverpool fans were left feeling helpless as target after target had slipped away. Who can forget the situation with Willian flying to England originally to see Liverpool, instead heading over to Spurs to sign a contract, only then to have his medical at Chelsea.
It seemed that summer nothing would ever end up going Liverpool's way, similar to the past summer we Reds have just experienced. Although this summer there were more issues with clubs being unwilling to sell top targets, than being outright ignored by players, as seemed to be the case in 13-14. Respect is being gained again by the club all over the world thanks to the growth of Liverpool under Klopp, and frankly our dominant performances in Europe and over Arsenal at Anfield during the early stages of the season. This made the  recent actions of Philippe Coutinho even more confusing. Coutinho seemed desperate to leave a club adamant on keeping him, not only thanks to his abilities, but also how important he was to the supporters.
Was being the key word here, as it seems Phil will now (after failing in his attempt to go away) be nothing more than another player in the eyes of most supporters. Who can blame anyone for this stance as well, as even I have grown tired of reading how "miserable" Phil is for not getting his move. As if to say that Anfield is such a poor place for a player, a place that has sung his name countless times over the past nearly 5 years.
Liverpool's 13-14 season has a similar tone though at its beginning. A tone not only tied to a failed summer of transfer willing and dealing, but also tied to the failed attempt to move away from starting striker, Luis Suarez.  This was the summer in which Luis had agreed to a move to rival Arsenal for a whopping transfer fee of 40,000,001.
Can any Liverpool fan ever forget this day? The absolute insult of an offer from Wenger and his staff for a player they knew was worth more than that (it was his official release clause fee, but that's not the point there at all.). Suarez was leaving in pursuit of Champions League football, something Liverpool had yet again failed to qualify the previous season. However, Suarez had signed a new contract in the previous winter and committed his long-term future to the club (Coutinho anyone?). I will never forget having to see this disgusting, hastily made edit of Suarez in an Arsenal kit all over Twitter once the news was reported.
A part of the Suarez story that can be mentioned, as in my opinion it helped Liverpool not sell him to Arsenal of all places, is the fact that the striker was suspended for the first 8 games of the season for biting Branislav Ivanovic during a league match against Chelsea. Liverpool stood firm with their player throughout this issue, as they had done during the strikers ban for racism during the 12-13 season. The hope became that Suarez would remember this loyalty the club had to him, and I like to think thisdid in fact weigh into Suarez's' eventual decision. Yet it was following a conversation with Steven Gerrard things began to turn around more officially, (after a day of Suarez training on his own) the former Liverpool Captain and god to all men had this to say on the conversation:
"Before the meeting you had Luis Suarez training on his own in the afternoon at Melwood," Gerrard told BT Sport.

"Brendan's relationship with Luis had broken down.

"I don't think it was Brendan's fault. Luis wanted to move on, to play Champions' League football and he had people in his ear and people around him forcing him to make moves that maybe he didn't really wanna do"

"So I think it was just a case of being in the middle and trying to heal that relationship with him and Brendan and get him training with the first team again and just chatting to Luis and saying to him, is it Arsenal that you really want or do you want Real Madrid or Barca?

That was the jist of the conversation, because I knew, deep down that him and his family wanted Barcelona rather than Arsenal…

"For me and all the Liverpool supporters and Liverpool people it made no sense at all, him going to Arsenal because it would have made them an awful lot stronger.

"When you lose someone like Luis Suarez it makes you an awful lot weaker, so for me, I was prepared to do anything it took to try and make that not happen."
Suarez chose to stay at Anfield for at least one more season.
The 13-14 season will always be one of my favorites as a Liverpool supporter, especially being one that lives in Denver, Colorado. The main fact about the support for the EPL Clubs in the States is that the common American "Soccer" fans are very much glory chasers, meaning that you will always find more Chelsea,  and Manchester United ( now City as well) fans than Liverpool or even Arsenal fans. We all judge the Spurs fans though, I mean goodness of all choices a person could make, they choose to support Spurs.
That season I had a little something extra to brag about to the other pub dwellers waking up around 5:00 A.M to watch the EPL and enjoy a good 3-5 pints, depending on how the matches went. That year I had numerous 5 pint days, they seemed to go down much easier with SAS leading the most lethal attack I had ever seen in my 24 years of living, and Stevie giving one last truly special season to have a run at the league.  Of course the season ended in heartbreak, as unfortunately has been the case our last two title runs.
Suarez of course would bite someone again during the 2014 World Cup, and eventually got his move to Barca. He would win the Champions League his first year there, essentially proving what I have already stated. Steven Gerrard knows everything and the planet is a better place thanks to his existence. (Well maybe I didn't use those words) Think about that 13-14 season though and how great it was. We truly were the best football team in the land, and it being led by the man who tried to leave made it all the more sweet in my opinion, as it proved just how special a place the club can be.  If only we had held that 3 goal lead at Palace, who knows what would have happened. …
Think about how different our club is today, when compared to where they were following that 13-14 season. This new season feels like it will be truly special so long as we ignore the Watford result , and of course not signing Van Dijk, which would have made it a guaranteed successful season in my opinion. Those points put aside, Klopp has transformed a group of fans who were at their seemingly lowest following the 13-14 title crash, and the following 20 months full of Ballotelli, Stoke beating us 5-1 in Stevie's last game, and don't forget Stevie losing to Palace at his last Anfield match 3-1. I'm skipping out a lot, but this is mostly for my own sanity and frankly, yours as well.
Klopp said his mission was to change our group of fans from "Doubters to Believers". I believe he has done just that, and what better way can we show this, then by taking Phil back into our team with open arms, getting behind the little magician and seeing what he will add to an already lethal (even more so than SAS in my eyes) attack?
As I mentioned, Suarez himself pouted, and almost forced a move away before the 13-14 season, yet after he accepted he would stay at Anfield for at least one more season, well he turned around and scored 31 league goals. He also signed another contract extension in December of that year, but that's another topic entirely at this point.  Now of course Coutinho would be lucky to just equal the display shown by Suarez that year, but with his storied past in red behind him, we know Countino could give us a season to remember, after all it has to be every creative midfielder's dream to have teammates with pace like Salah and Mane. Plus with a Champions League spot locked down, and I mean even Coutinho would have to see that Liverpool's summer was far more postive than Barcelona's. Liverpool is the better place for him to be right now, he simply needs to wake up a relaize that.
I suppose the point of this now lengthy article, is not only to point out the similarties between Coutinho of 17-18 and Suarez of 13-14, but to also state that we must keep Jurgen's first LFC quotation firmly in our heads and hearts. We must not become doubters of the little Brazilian we had come to know and love so dearly. We must instead, and yes this is cheesy, believe in him. Believe that the owners and managers wanted to keep him around because they knew how crucial he would be to the year, believe that with some space between himself and the transfer window, Phil will again realize that he is happy at Anfield, and finally keep believing that just maybe this team has a chance to do something special. With the Number 10 locked down for at least one more season, hopefully some more magic is on the horizon. This is not amatter of forgiving the player (as this will take even myself a while) ,this is about supporting the squad, and he is now a key piece to that.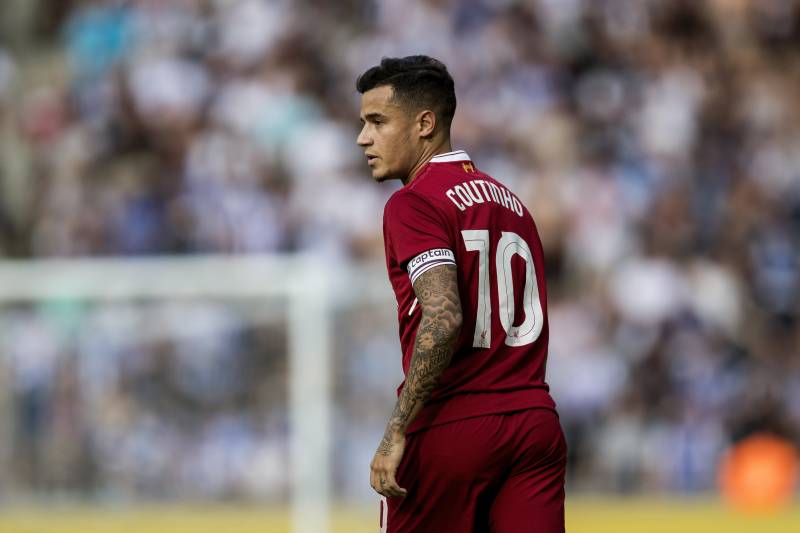 Also give this a quick read, I just find it ironic, and also take it as a good sign for the season ahead.  http://www.dailymail.co.uk/sport/football/article-3232996/Luis-Suarez-told-look-Philippe-Coutinho-left-Liverpool-reveals-Steven-Gerrard.html
Of course, if Phil continues his poor behavior towards the club, I will look like a fool for all of this, oh please Phil get your head back on straight.